Some people search for a scare on a night like tonight. Tonight is Halloween and we all are longing for some fright. Well, for all of the performers out there celebrating today...
Ghosts in the Theatre?
The Stamford Palace Theatre
Located in Stamford, CT, this ancient theatre was built in 1893 but soon burned down by a fire and rebuilt. Its owner, Mary Vuono, was said to have died in the apartment above the theatre. Today, people have claimed to see her roaming around the theatre in 'ghost' form, "checking in on how the theatre is doing". I have danced in this very theatre frequently and I do have a story to tell from my experiences. During one of our performances of The Nutcracker, we were about midway through the performance when the fire alarm began to sound. People started panicking and the director had to run out on stage to usher the performers and audience out safely. I was downstairs but I can vouch that I could feel the coolness of an unearthly presence there. By the time this issue was resolved, none of the cast or crew seemed to have accidentally or purposefully pulled this fire alarm because there was no smoke in sight...
The Richard Rodgers Theatre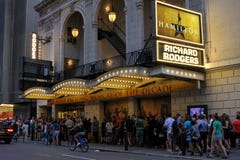 You may be familiar with this theatre from going to see 'Hamilton' or you may have even performed here. Either way, you must know how recognizable and iconic this building is in the theatre world. Especially right now. However, according to Playbill it has seen its fair share of paranormal activity over the years, "'T
here are reappearing red lipstick smudges in the ladies room. They get painted and wiped but inevitably return. Stall doors open by themselves. Dressing rooms have strange sounds, and things spontaneously fall off shelves in one of them. Afterhours brings bizarre howling sounds". The strange sightings may be just a hoax or the Hamilton fans trying to spell out the lyrics to My Shot!
I hope these two theatres gave you the urge to find out more about theatres around you or gave you a scare on Halloween! Let me know in the comments below the post if you have ever preformed in or been to a theatre that you thought was haunted!